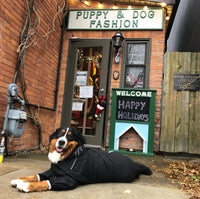 About Us
Welcome to our new extension of a successful Family Business. Started off 25 years ago in Budapest, Hungary! The love for all dogs encouraged us to grow towards Canada after seeing a huge success in Europe. We opened our new store at Niagara-on-the-Lake, Ontario come and visit us, we are here everyday.

We offer #1 quality clothes and accessories for your lovely dogs, only from the best brands represented by our Headquarter in Hungary. 
We believe dogs are our family members, they are better companions and indeed they do deserve the best! 

Please like / share / join / follow / support us to help our Family Business grow and to reach out all the 4 legged ones in North America. Hope to meet you in person strictly only together with your dog :)

Endless gratefulness for the support of Puppy Angel Hungary and Hunter Hungary who allowed us, inspired us and supported us to start and open to the North American Dog World.
Contact Us
Store: 9 and 1/2 Queen street, Niagara-on-the-Lake, Ontario, L0S 1J0 Canada
Store hours:
Monday 10am - 5pm
Tuesday-Sunday 10am - 6pm
puppyanddogfashion@gmail.com
(1)-604-999-3697