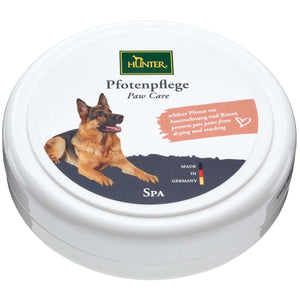 Paw Care Spa by Hunter
Puppy & Dog Fashion Ltd.
Regular price $28.00 Sale
Size: 75 ml Hunter Paw Care Spa
In the second half of the year, when wet, cold, snow and ice dominate everyday life, the sensitive pads of dogs' paws are often affected. Ice clumps, salt and grit can cause fine cracks in the skin of the pads, which can quickly become a real problem without appropriate measures. To prevent this from happening in the first place, it is advisable to check the dog's paws after every walk and to remove foreign bodies of any kind - in winter with a soft cloth dipped in warm water. The SPA paw care forms a caring protective layer on the pads of the four-legged friend and can also be used without hesitation for other stressed areas such as calluses on the elbows or hocks. Dogs that suffer from sensitive or irritated paws, whether due to age, allergies, chronic illnesses or metabolic disorders, benefit particularly from the regular, moisturising care provided by SPA balm. They also enjoy the loving care of their two-legged companion to the fullest. SPA paw care should be applied thinly to the pads and in the spaces between the paws before every walk. The balm is quickly absorbed and has a pleasant natural scent.
Nourishing and protective balm for skin and paws
Reliably protects against drying out and cracking
Recommended for regular use
Pleasant, natural fragrance
Free from preservatives, microplastics and silicones
Made in Germany